If you are unsure who Jodie Comer is, she is Villanelle in "Killing Eve." And Sandra Oh is Eve. She was nominated for a Golden Globe and she won and made history as the first Asian-American female to win in this category. And she totally deserved it and thank you for representing us Asian-Americans! However, why wasn't Jodie Comer nominated for her role? In this essay, I will… *spoiler alert*
Just kidding. I didn't even use that meme properly. Anyway, I binge-watched the entire season on Hulu (bless) in one night. Definietly worth the watch. I was loving each episode and especially loving Villanelle. She has a interesting personality…I know she is a psychopath, and I don't know if that is how real psychopaths or assassins act, but it is something new to see on television.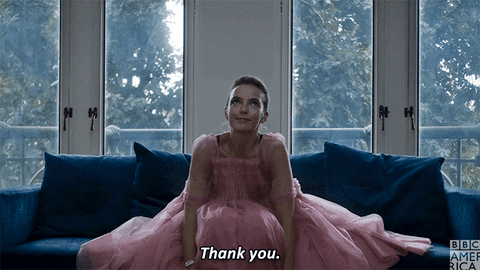 I'm a huge fan of Criminal Minds, and they talk about serial killers all the time. I know for a fact that I am no expert, but based on the constant conversation on how they don't have remorse or have any emotions was very true in the case of the serial killer named Villanelle. What was hilarious to me was that the assassin club (The Twelve) were concerned of her mental health. I thought that they were worried that she was enjoying herself too much, but nope, I interpreted it as they were concerned she wasn't psychotic enough. She laughed at a dead dog (while I cried) and said that she was annoyed when her previous target was begging for his life.
Then you have her going to the jail to kill Nadia, she succeeds and when the prison guards open the door, she happily cries "Take me to the hole!" (Season 1 Episode 6)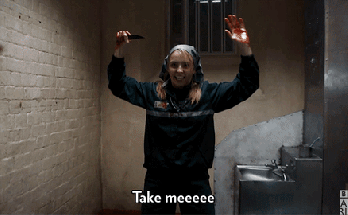 The other thing that Criminal Minds mentions is the obsession some serial killers get. And we see that Villanelle has an obsession with Eve Polastri when Villanelle figures out she's trying to find her. Villanelle steals her suitcase, and doesn't really care when her handler Konstantin tells her not to do something stupid.
Jodie Comer's interpretation of a serial killer as strange and yet fascinating as Villanelle really should have brought her more recognition. The show wouldn't have been nominated for a Golden Globe without her. Comer helped Sandra Oh give a spectactular performance that earned her a Golden Globe…without being nominated herself.
Respect Jodie.