Now I'm under the understanding that actors and actresses are supposed to have…serious emotions and expressions. Good emotions ask for smiling and excitement in the voice, while bad emotions ask for frowns and an angry tone.
We have been blessed with a great TV show called "Brooklyn Nine-Nine", and that's when I really started to notice Marc Evan Jackson. I know he has been guest starring in some other TV shows that I would watch, such as Adventure Time and Parks and Recreation, but he really made an impression on me in Brooklyn Nine-Nine.
"Brooklyn Nine-Nine" introduced us with the monotone, robot Captain Raymond Holt, whose husband is Kevin Cozner, and is equally monotone and robotic. There have been instances when Kevin shows hints of disappointment, like when Captain Holt failed to tell him that he was stabbed during an attempted mugging (season 2 episode 16 – "The Wednesday Incident"). But you also notice that when Kevin and Raymond fight, they still have their still, emotionless like faces when arguing. Another great instance of their "emotions" is when they get married as well. They just say "yes" quickly and finally, Holt says "we're married!" and then the scene is over.
But not only has Jackson showed us his acting skills in "Brooklyn Nine-Nine", but also in "The Good Place" as Shawn, an Eternal Judge. As his position, he again shows very little emotion, and a wonderful part of his character in this show is how he handles emotion. While Tahani, Chidi, and "Real Eleanor" are fighting for Eleanor with Michael in his office, Tahani has a bit of an outburst full of emotion, which results in Shawn resorting to a cocoon. Michael says that it's important to discuss this situation without showing emotion, so that Shawn will stay out of his cocoon and listen to what they have to say.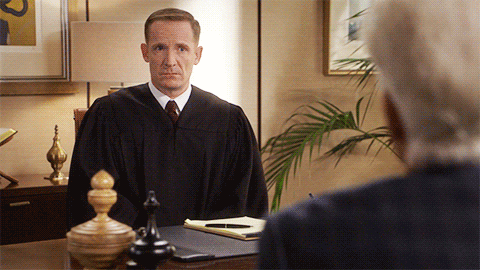 Even Shawn's reaction to Jason being from Florida as a "shock", Jackson shows no emotion.
I don't know why I love Marc Evan Jackson for sure, but I do know that I love his acting method of emotionless characters, and especially his roles with NBC. I do know that he can provide emotions in his other acting roles, but seeing him in this light really brings out a new character to the world. He shows us a different kind of person that we don't not see often, and he's still funny!
❤